A theme day can be used for a specific class e.g. for a trip where they have an alternative menu or for the whole school for an occasion e.g. Christmas Meal.
NOTE: A theme day can also be applied to a specific day for unexpected school closures.
This will remove the menu and cancel any existing bookings and will apply the credit for that booking back to the pupils Dinner balance.
To create a theme day:
Enable the new user interface via the toggle in the top right-hand corner
When setting up Menus you can create a Theme menu for one day only, as opposed to the Lunch category which is used to set up a menu for all five weekdays
 Go to Menus > Menus > Theme Days [1] > click the Actions button [2]
Click the Add Menu [3] option to open the Add Menu window.
When creating a new Theme day menu give it a Description [4] that is easy to identify (e.g. Gluten Free Menu #2).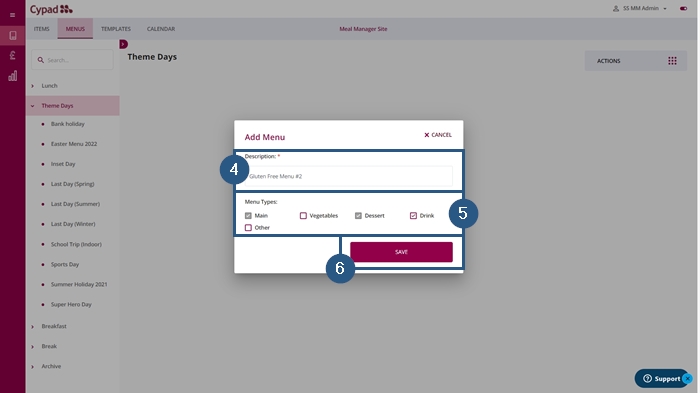 Set the Item types [5] for the Theme day. This defaults with Main and Dessert pre-selected. You can decide whether to include Vegetables, Drinks and Other items by clicking the check-boxes and click Save [6] when done.
To add Menu Items to the new Theme Menu select the New Theme Day [1] (Gluten Free Menu #2).
Users can select Items from the Menu Items [2] lists by dragging and dropping a Main Menu into the Main Menu [3] field. You can apply up to 20 Items to a Main Menu and up to 8 Menu items to a Vegetable Menu, Desserts Menu and Drinks Menu. Click Save [4] when done.
To apply a theme day:
Click Cypad in the top left-hand corner and select Menus from the drop-down list.
Enable the new user interface via the toggle in the top right-hand corner
Click into Calendar at the top of your screen.
The current month will open, and you can click through to view future months.
To the left of the calendar, you should see any Theme Days you have created. You can now drag and drop the Theme Days on to the right day in the calendar.
The 'Add Class Override' window will then appear. This allows you to select the class groups you would like to make this theme day available to. All of the class groups will be automatically selected when the window opens. However you can untick classes individually or you can deselect all of the class groups by unticking the main tick box in top left and then reselect only the class groups required.
Once you are happy with the class groups selected click OK at the bottom of the screen. The Theme Day you have added will now appear in the calendar, once you are happy with this click Save in the top right-hand side of the screen.