Admin users can now add an Asset questionnaire to Assets. Only one questionnaire can be created, this questionnaire will be applicable to all Assets. 
Creating Asset questions
Go to Assets > Admin Tab > menu item Types [1] > Asset Questions [2] > Add [3].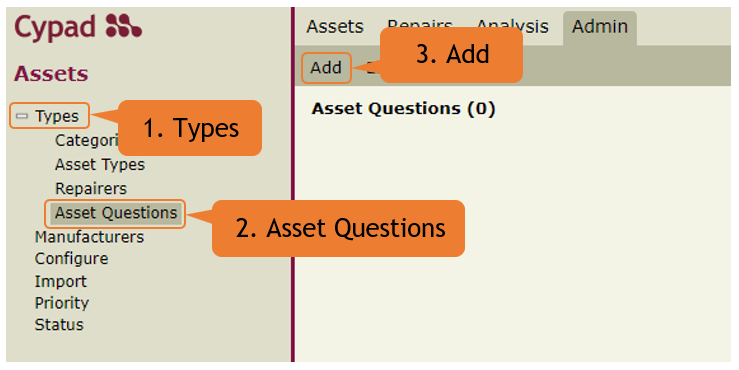 In the Edit Question window use one of the following Type [1] options to create a custom question:
Text
Number
List
Yes/No
Header
Date
After filling in the questions, values, attributes and criteria click the Include question in summary [2] check box, then click Save [3].
NOTE: Asset reports will contain all the questions created in Asset Questions.
Editing Asset questions
If any changes are required after creating your questionnaire, left mouse click a question and select Edit question [1].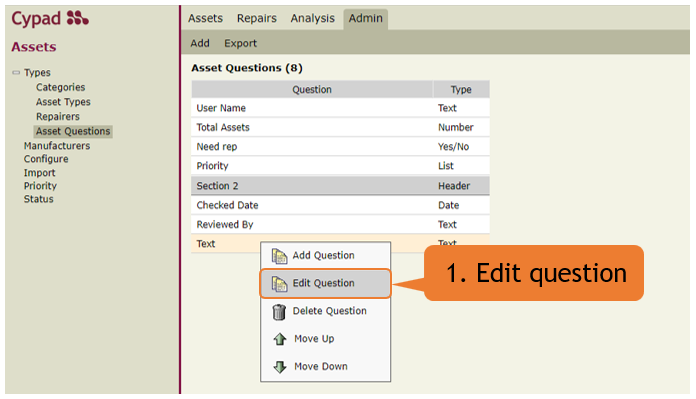 Answering the Asset questionnaire
Go to Assets Tab > Sites > select a Site [1] > Add [2] / Edit Asset [3] > Asset questions [4] tab > fill-in the Answer [5] column > add any useful notes in the Note [6] column > click Save [7].