This article will teach you...
How to E-Mail a form to a manager.
Manager User Email setup
Before using the Email to Manager feature make sure that the Manager user has a valid email address, Area access and Site access assigned. In the System admin page use the Users: Manager [1] to single out Manager users in the Users list and select the desired User [2].
In the Edit User window go to the Info tab [3] and confirm the Email address [4] is valid and the Site field [5] is left blank.
In the Admin tab [6] make sure both the Available [7] and Emails [8] check boxes for the Manager's Area are ticked.
NOTE If the Emails checkbox is unchecked the Manager will not receive any Email notifications.
In the Sites tab [9] make sure the Manager's Site/s [10] are selected using the checkboxes then if any changes have been made click Save [11].
Setting a Form to be automatically sent to managers
Go to Design > open a Forms Folder [1] in the left menu > either select a Form [2] from the table or click Add Form [3]
In the Edit/Add Form window set the Style drop down [4] to Email to Manager, this will reveal the Email Cc field [5] where you can enter additional email addresses that the Form report will be sent to.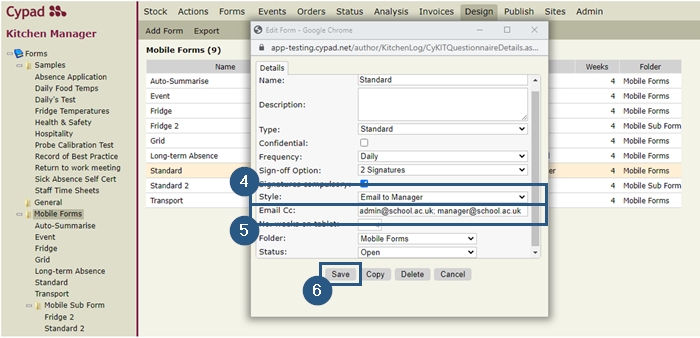 NOTE When adding email addresses to the Email Cc field separate each email address with a semi-colon.
Click Save [6] when you have finished.
Missing Manager emails
When sending out a Form, school administrators will receive an email advising which site cannot be emailed due to missing manager email addresses.
The e-mail will say the following:
Dear Admin,
Form cannot be emailed. The system is not able to find a manager with an email address allocated to site.
Regards,
Cypad Support
NOTE If no Admin account, with an email is setup, a support request email is automatically sent to the CYPAD Support team.
Email Opt-Out
Managers who do not want to receive automated emails e.g. Forms can opt-of receiving them.
Go to System > Users > select a User [1] > Admin tab
When the user ticks a checkbox in the Available column [2], the Email column [3] for that Area is ticked automatically. Manually un-tick the Emails column tick box to exclude the user from any email communications related to that Area.