Go to System > Admin > Import > set the Import type [1] to one of the following:
Sites - Used to import new sites and their details into the system or amend existing site details.

To amend existing site details, go to System > Sites > Export > Export for Import

Site Questions - These are the Site Questions that are accessible via System > Sites > Edit Sites window > Site Questions tab
Historical Roll Numbers - Use this template to record changes to roll numbers for a date period in the past. It will not current roll numbers.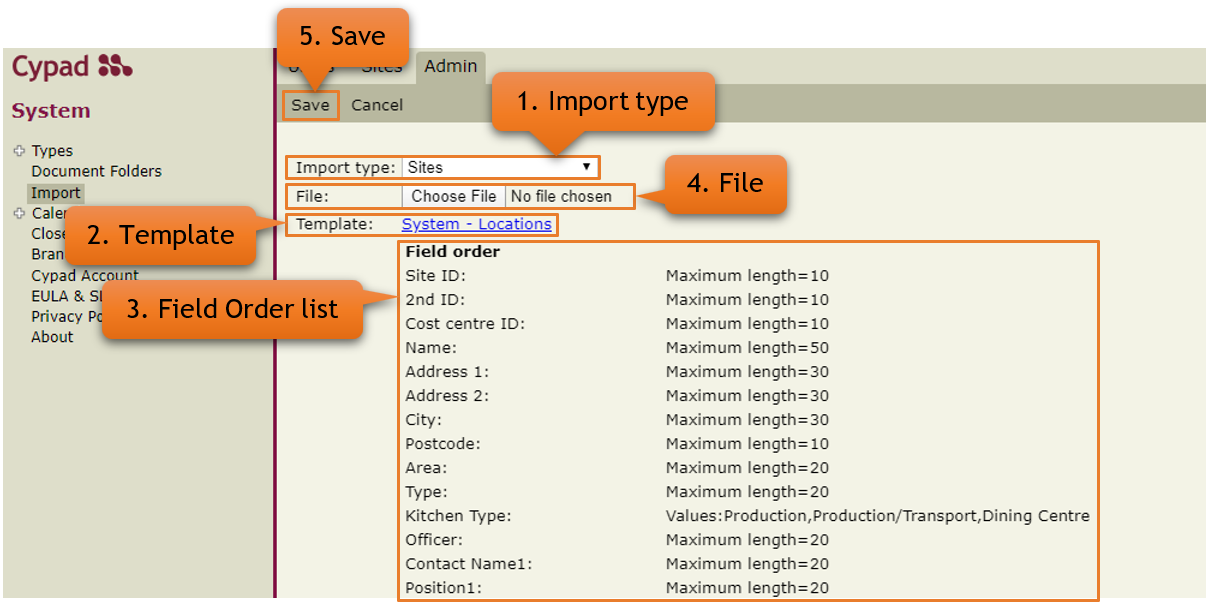 Click the Template [2] link highlighted in blue to download an Excel template file that is formatted with the Fields identified in the Field Order list [3].
NOTE: Desktop Users can import data from an Excel .csv or .xlsx file.
After filling in the Excel spreadsheet, save it to your desktop, click the Choose File [4] button, select the saved spreadsheet and click Save [5] to Import it.
Once the spreadsheet has been imported it tries to identify any existing sites using the Site ID and DFE, if a DFE is invalid the import will fail. If a Site ID is found then the record is updated, if not a new site is created. If there are errors on the spreadsheet an error link will be displayed, click the link to view a text file that will show the reason for the error.