New and existing asset items can now have a photograph stored with the asset details. The photograph can be added from the Desktop or with a photograph taken on the tablet.
Go to Assets > Assets > select a site.

Select the asset you want to edit. In the Edit Asset window click on the Image preview [1].

When you click on the Image preview [1] the option to select your image file will appear at the bottom of the Edit Asset window.
Click the Choose File [2] button, select the photo you wish to upload from your computer and click OK.
Click OK [4] to save the image you have chosen or click Cancel [5] to cancel the photo upload.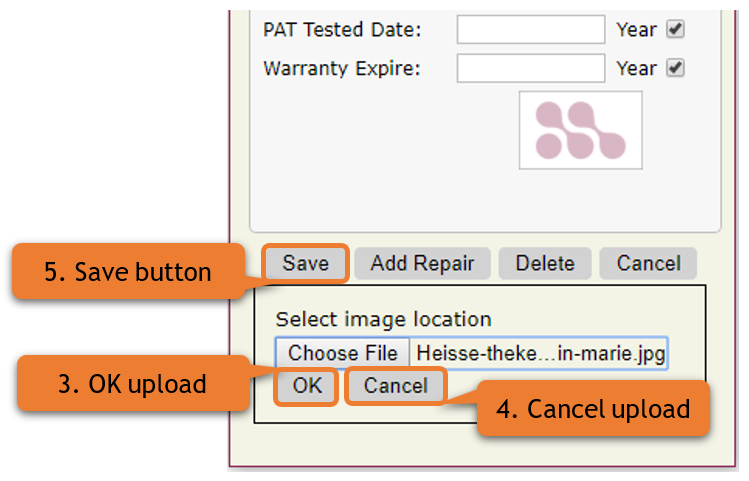 NOTE You are limited to upload and display only one image and the maximum file size is 500kb.


Click the Save button [3] to complete the action or click Cancel to close the Edit Asset window without making any changes.
If you open an asset which already has an image uploaded, click on the image preview. You can Delete [6] the stored image and upload a new one as per the steps above, or Close [7] the preview.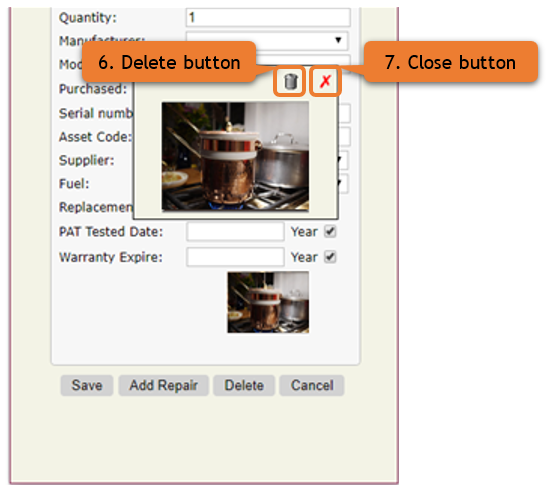 Photo - Creative Commons 3.0