Sub folders can now be added to folders for Forms and Documents.
This article will teach you...
How to configure form sub-folders.
Navigate to Kitchen Manager > Admin.
Adding Form Folders
Select Form Folders [1] from the navigation tree and click Add [2].
Using the Textbox enter the Folder Name [3] and Choose an Icon [4] if required.
Click Save [5].
Creating Subfolders
Created Folders can now be added to other folders to create Subfolders.
Click and hold on to the Created Folders [1] and drag and drop the folder into the Relevant Folder [2].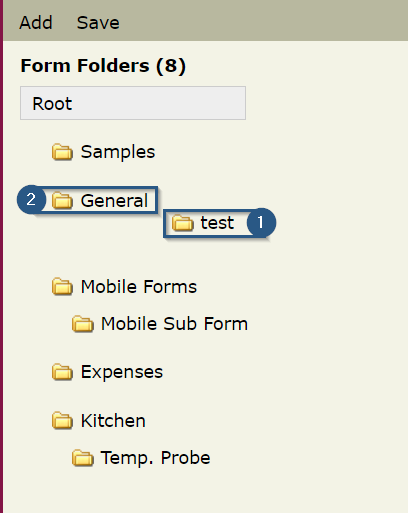 The Sub-Folder [3] can now be seen underneath the chosen main folder.