Reporting allows you to access and utilise the data collected in Meals and Payments. You can access data from any integrated external system.

What can I report on?
KPI Reports are limited to a few pre-designed reports which cannot be changed. We have a spreadsheet describing the KPIs in more detail. If you would like a copy or would like a new report designed please contact Cypad Support.
NOTE: You will not be able to report on items where the appropriate data is not being collected.

Where does the data come from?
Different data sources
Data may come from different sources for different schools depending on where the initial data was entered. If a school uses Meal Register, then meal numbers are taken from there.
What if the data looks wrong on the report?
If data looks wrong on your report, try following the data trail back for a single site to either the daily summations in the Data Reader or to the raw data in Payments. In both cases check for data not being filled in or put in the wrong entry. If you still cannot prove an entry, then contact Cypad Support on 0117 942 9833 providing as much detail about the question as possible.
Viewing, Downloading and Emailing a Report
Go to Reports > select a folder (e.g. Staff Trading Summary) > select a Report [1] > set the Period Range [2] > Set the Date Range [3] > click Go [4]
NOTE: The Period Range options are Daily, Weekly, Monthly, Annual and custom Period.
To download a copy of the Report click the Export [5] button to download an editable Excel file.
To see a graphical interpretation of a specific report row click anywhere in a Row [1].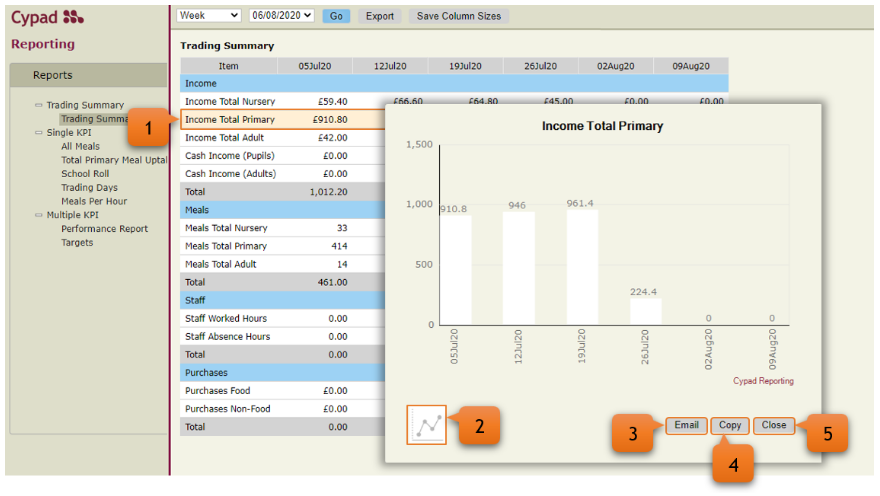 You change the view of the chart from a Bar graph to a Line graph by clicking the Change view [2] button.
Click Email [3] to email a copy of the chart to multiple recipients.
Click Copy [4] to copy the on-screen chart to paste into a MS Word document or equivalent as required.
Click Close [5] to close the chart and return to the Report screen.
When using the Email feature use a semicolon (;) to separate each email in the Email field [5] and include a Message [6] before clicking Send [7].

Settings
Go to Reporting > Settings [1] > Settings button [2]

Use Settings to:
Select a 6 to 13 period report view

Show closed Sites

Compare sites

Select Results or General view
A column has been added to the General view [3] of a report to make it possible to view reporting data alongside the site contract.
The new column is titled Contract [4] which displays the Contract name of each site.