Follow the steps below if you have created your payment item and would like to assign more people.
Navigate to Payment items>view other payment item
Select the relevant payment item
Select the Edit assign people button

Select Manually add or remove people



From the Choose group 1 menu, select the type of person or group you wish to add (e.g. Pupil, Staff, etc.)



From the Choose group 2 select the year group, class group, or custom group to view.

Under Choose search criteria, leave as All and then select search



All pupils in the selected group will be displayed.
Select the Add option for any pupils to be assigned to the payment item.


NOTE: To assign everyone in the list you can select the Add header.


(Optional) If you need to removed someone from the list, select the Deny option and they will be removed from the payment item. Again, if you wish to deny all payers from the payment item you an select the Deny header.
Select Save settings at the bottom of the page.
Global assignment
If the school require everyone to be assigned to the payment item, for instance if school meals are available to all payers, there is a Global assignment option.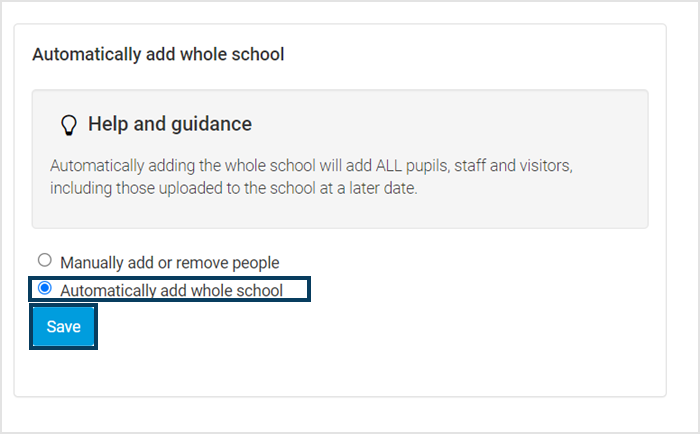 Select Save.
This will assign all live accounts to the payment item, as well as any new accounts added to the school's ParentPay site in the future. Using this option allows the payment item to be used year on year with no additional adjustments when new people join the school.
NOTE: It is not recommended to use the global assignment option for payment items such as trips or school events.
Viewing assigned people
Navigate to Payment items > View payment item.
Locate the payment item to assign people to.
Select the View assigned people option from the report section on the right side of the payment item

A list of all assigned people will populate. the information will show any payments or debt balances, this can be exported to Excel if the school wishes.