Getting started
Welcome to the ParentPay support site.
Here you will find a variety of information designed to answer any questions you have and to help you to learn more about your ParentPay solution and the other features that are available.
As a new customer, there are several key milestones that you need to complete in order to go live. Below, we break these down into a series of steps with links to helpful guidance and videos where appropriate.
NOTE: We suggest that you save this page in your browser while you are getting started so you can always get back here quickly.
New site setup
If you haven't already received a Welcome to ParentPay email, a member of our onboarding team will be in contact with you as soon as your new site has been set up, normally within 48 business hours of submitting your application. As soon as you have this you will be able to activate your first manager account and log in.
You should also have received an invite to access our eLearning platform, ParentPayGroup Academy. Once you have activated your account you will be presented with courses that have been selected for the solution you have purchased, as well as complimentary products that you may be interested in.
Please let us know if you have any problems activating either account.
Contact us
Review and complete personalisation
Once you have logged in with your new manager account, you should familiarise yourself with the interface. Below is a brief overview of the My ParentPay screen that is displayed after you successfully log in: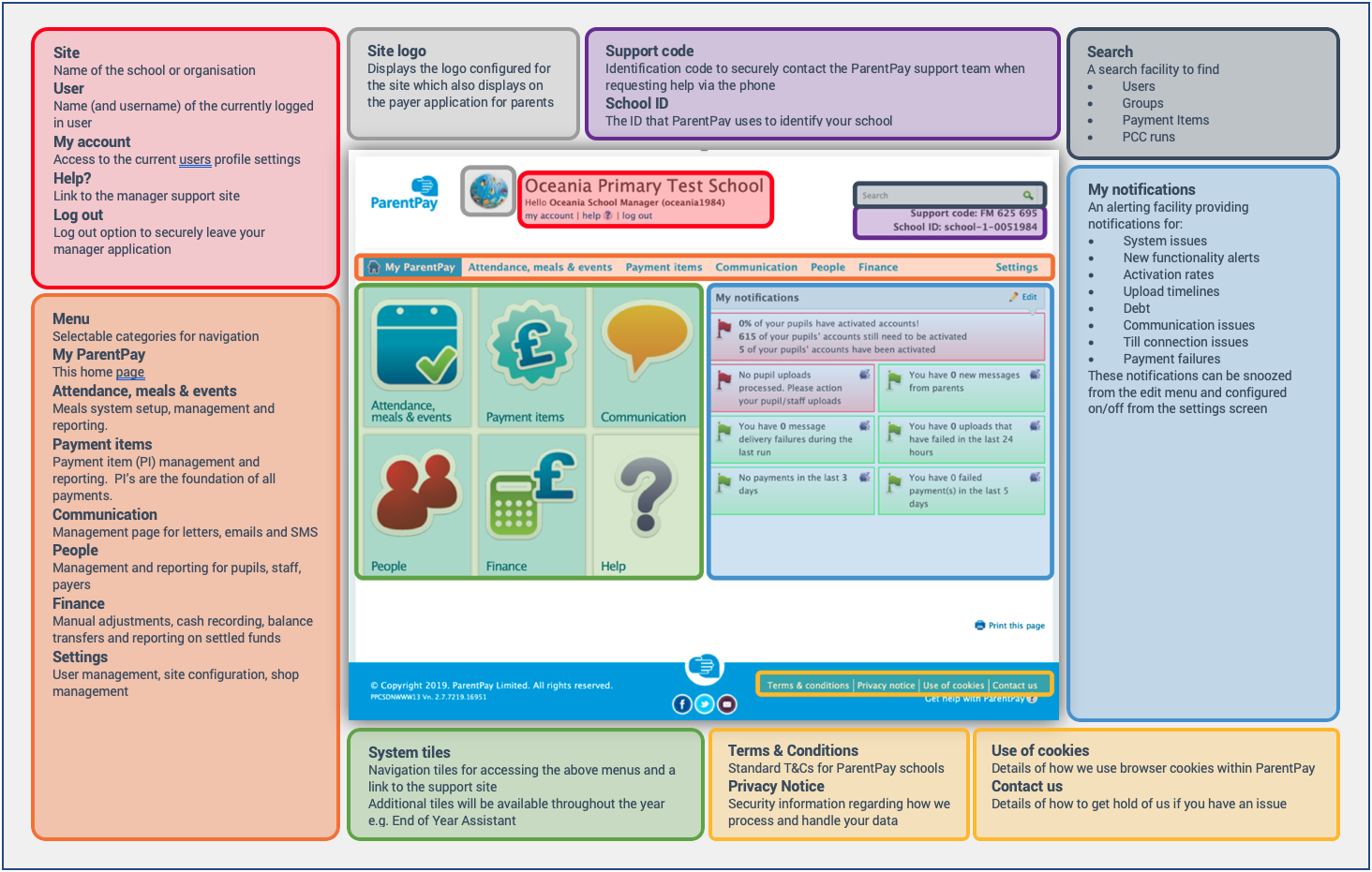 If you haven't already, you should now take a look at your eLearning content. This is a great place to familiarise yourself with the look and feel of the site, any customisation you wish to make to it and to learn the basics of how you can begin to use it.
You can access the Academy by clicking on the image below:

Once you had logged in we recommend that you begin with the Start your ParentPay journey course as it guides you through some customisation steps and helps get you ready for using the system. This will also ensure that your parents will be able to identify your school more easily when looking at the children in their Payer Application, especially if they have children attending different schools.
It also ensures that when contacting and discussing issues with ParentPay support staff, they can correctly identify and verify you, improving data security.
Key requirements:
Add contact details for

Key contact

Meal or catering contact

Data Protection Officer (DPO)

Add additional Manager Accounts for other members of staff that need to administer the system

Add bank accounts

Main account
NOTE: If you are using a shared bank account this will normally be configured as part of your project setup however you will need to inform us if you need to be added to an existing local authority, catering or MAT bank account.


OPTIONAL Fund account

Upload people into ParentPay (see the Uploading and importing section for extensive details on how to complete this).
Ongoing training
Your dedicated onboarding specialist will have discussed with you the eLearning courseware and content that you need to work through to learn how to use and operate the system. In conjunction with your onboarding specialist you will be able to learn about all aspects of the system you have purchased to maximise your return on investment and get the most from the services available.
Upon completion of your training, you will have one or more evaluation consultancy sessions where you are able to ask any questions you still have and make sure that you are comfortable with your system. Your assigned specialist will determine if all critical elements have been correctly configured, check that you have sufficient knowledge of the system you have, and fill in any gaps that they identify.
Once collectively you are happy that you are ready to go live they will discuss steps to transition you to live support and a post-launch standing.
Additional resources
How to set up an Additional Bank Account
How to create a Manager Account