How to setup Custom Links for Parents
Custom links is a feature that allows schools to add up to three URLs to the Payer Application, used by their parents and carers. These links are entirely configurable by a ParentPay manager at the school, enabling payers to quickly and easily navigate to important pages, such as the school website, an announcement page, an eLearning portal or online resource site or a page detailing nutritional and allergen information.
Enabling Custom Links
By default, the feature should be configured on and will be viewed by navigating to Settings > Manage content in the Manager Application and checking if the Custom Links section is enabled (see the image in the Configuring Custom Links section below). If these are not enabled you should contact the support team who will be able to switch this feature on immediately.
Configuring Custom Links
Once enabled, school managers are able to configure up to three separate links that will then be presented to Payers in the Payer Application side menu.
To do this:
Login to ParentPay as a school manager (with overall rights)

Navigate to Settings > Manage content
In the Customer Links section, for each link to be configured:

Text to display – enter the link text that will be displayed to the payer (max. 50 char.)
Website link/URL – complete the URL for the website being presented (max. 2000 char.)
Make visible to parents – check to make the link visible to payers. This can be used to remove visibility temporarily without deactivating the functionality completely.

Select Save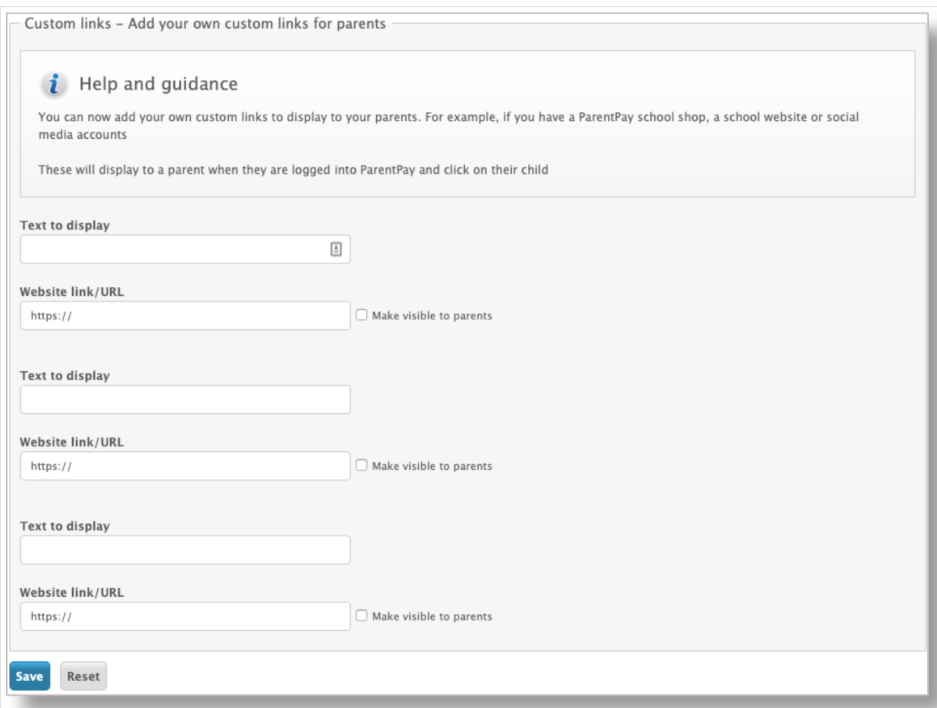 Payer Application visibility
Once configured, all payers that have a child or staff member associated with the school will be able to access the Custom Links that have been created. When they select one of the links it will open the URL in a new tab.
As different schools may have different links they wish to make available, they are located for each child when selecting their name or tab as shown in the image below where 'Bella' has been selected and two URLs are presented under the headings 'Test 1' and 'Test 2'. By selecting either of these links you will be able to see the URLs that have been configured and then select them to navigate to those pages.