How to create the letter
Within your ParentPay manager account, navigate to Communication > Create letter
Select the Message/Template type drop-down menu to view all the letter templates
Select the activation letter template to use:

Activation Letter Dinner Money – for school meals only.
Activation Letter All Services – for all payment types.
Activation Letter Dinner Money PayPoint – for school meals only, containing a PayPoint barcode for payment.
ParentPay: Activation letter – additional accounts – for additional account holders (second parent, grandparent, carer, etc).
Staff Activation Letter – for staff payer accounts (not manager accounts).


Note: It is not recommended to send out activation letters containing a PayPoint barcode in the first instance. Having a PayPoint letter may discourage payers from activating their ParentPay accounts. If payers do not activate their account, they cannot provide verified email addresses and mobile numbers used for communication.
Select the Template name to create a copy using that template.
If required, edit the message name in the Template name field. This will be used once the letter has been created to easily identify it should you wish to create your own template.
Ensure the Send as a printed letter

check box is the only option selected.

The letter template will be displayed below the check box.
Select Edit Letter

to make changes to the template

If required, copy and paste any of the field codes listed on the right side of the window to pull in details of individuals such as name or class. Field codes can also be used to add headers, signatures, or logos onto emails or printed letters. A list of the field codes and an explanation of their use can be found in the guidance document Using merge fields.
Warning: Care must be taken when altering or removing field codes as this may remove critical information such as unique contact information.

Once the changes have been made, select Continue


Warning: You must complete the entire letter creation process to store a copy of the letter. Selecting Save at this stage allows you to progress to the next step, however, if you leave the Communication center at this point you will lose all progress.

Info: You can include only one image in the letter i.e. header, signature, or barcode.
How to prepare the letter for sending to parents
(Continuing from the step above)
Set Priority to Normal.

Set Send to as Primary payer only: one message/child.
This will ensure that each child is issued a letter containing their unique activation codes.

Select Continue to add people

In Add recipients, select the options to suit your requirements.
For instance, to include an entire year group use Option 2 to select the appropriate year and then select Add. To add an individual pupil, change Add group to Individual pupil then filter the list by selecting the year or class in the Option 2 drop-down and the pupil's name in the Individual drop-down, then select Add.


Continue adding pupils and groups to the list until you have completed the selection for this message run. Details of all pupils that have been added will be displayed in the Recipient group

.
6. Select Continue to preview.
7. Review the information for the message run, and select Confirm send.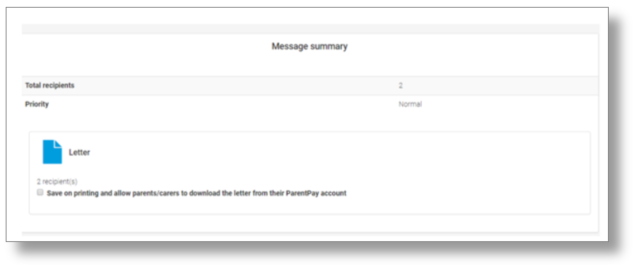 Note: Selecting send messages for a printed letter will not automatically print the letters. It will allow you to review the letters in a PDF format before choosing whether to print them.
The message summary will be displayed.

Select Open pdfs to view the letters. You can then choose to print them.