A selection of Pre-prepared templates will have been added to your ParentPay site. You can either select to use and adapt one of the existing templates, or alternatively you can create your own email from scratch.
To create email communication you need to go to Communication > Email & SMS
You will need to choose either the template that best suits your requirements or click to Create New Message. The likelihood is that, unless you send a regular email i.e. a newsletter, you will want to create a new email.
Give your message a Template name and ensure the Send as an email is ticked
Click Edit Email to add/edit the body of the text.
Remember to click Continue to ensure your changes to the template have been saved.
Select Continue to Message Options
Choose the appropriate options for your email: what is the priority, who do you want to send it to and how?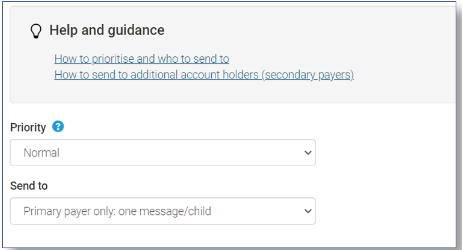 We recommend that you leave the Priority as Normal and the Send email to verified email addresses only box ticked to ensure you are only sending communication to those parents or carers who have verified that they are the recipient.
If you have secondary payers set up on your system you will need to select to Send to All Payers (primary and secondary)
When sending emails remember to enter in a Subject, or you can leave it with the pre-populated subject showing if you are using an existing template.
If you want to add an attachment to your email you will need to click Choose file, add your relevant file and click to Add attachment.
Click Continue to Add People to proceed to the next set.
You will need to use the drop-down menu within the Add People/ Payment items section to select your recipients/Payment item for the communication. Click Add to add the selected recipients to the Recipient group.
Your selected recipient group will be added to the Recipient Group section
Once you have Added the desired people/Payment item click Continue to preview to proceed to the next step.
A Message Summary of your message run will appear on screen showing how you have elected to send the message via, the priority of the message, total number of recipients with a breakdown of each channel.
Click Send Messages
You will see the following green bar confirming your message has been sent