Within Schoolcomms click the Messaging icon on the left-hand side of the screen, then select Send a Text on the left hand side.
Click the Text Credits icon at the top of the screen.
You will be shown how many credits you have, click Order credits to purchase more.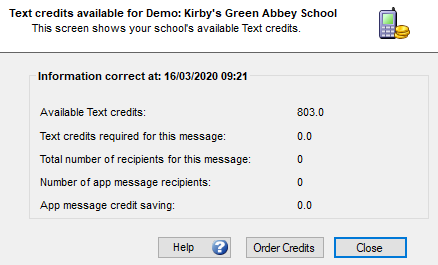 Select which bundle you wish to purchase and enter your Purchase order number and accept the license agreement. If you have an unlimited text license then please enter 'Unlimited', you will not be charged.
Your texts are available immediately and you will receive an invoice for your bundle in the post.
The cost of each text depends on which bundle you purchase.
You are able to purchase up to 20,000 text credits via Schoolcomms if you would like to purchase anything above this please send the request to: accounts@parentpay.com
Text Message Bundles:
| | | |
| --- | --- | --- |
| Credits | Cost | Per text |
| 1,000 | £ 65 | 6.5p |
| 2,000 | £ 120 | 6p |
| 5,000 | £ 275 | 5.5p |
| 20,000 | £1,000 | 5p |
| 40,000 | £1,800 | 4.5p |
| 50,000 | £2,250 | 4.5p |
| 100,000 | £4,000 | 4p |