Schools and Colleges are able to upload their Subject Group data manually via a CSV file.

A CSV report either needs to be exported from the MIS system, or one can be created manually. Only two columns are required AdmissionNumber and SubjectGroup.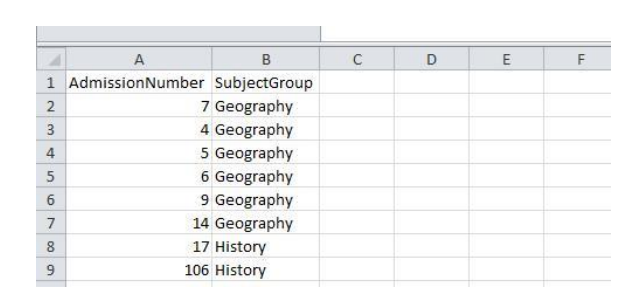 Students are able to be listed multiple times, as they may fall under several different subject groups.

Ensure the file is Saved as a CSV and the EXACT headers are used as shown above (ParentPay can provide a template).
AdmissionNumber
SubjectGroup

From within ParentPay navigate to People > Manual upload Choose to Browse and locate your CSV file
The screen will confirm how many groups have been added

This method can also be used to import 'House' groups or other types of custom groups if required however the SubjectGroup header would still need to be used.