The Staff App records staff Check In and Check Out times in an HH:mm format from the Attendance app. This information is displayed at the top of the Staff Hours pop-up for the supervising cook or catering manager to enter the total worked hours, overtime, non-productive hours and any absence before signing off your hours worked at the end of the week.
This article will teach you...
How to use the Staff PIN.
Accessing Staff
Login to the tablet and select Staff [1].
If you have been issued with a PIN, select one of the empty Hour Cells [2].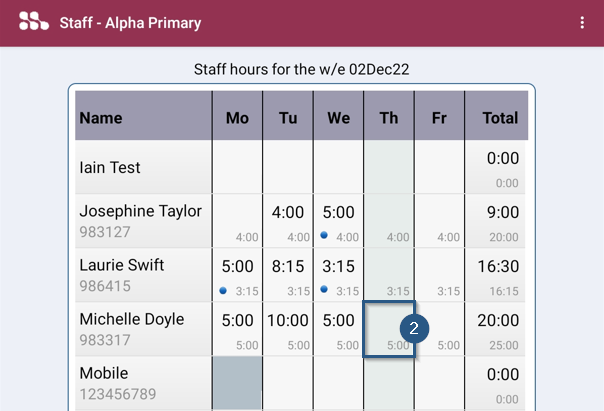 Upon selecting the empty cell an On-screen keypad [3] will appear.
Enter the provided Staff PIN Number and press OK [4] to sign in and fill in your hours.
After you have logged in for the first time you can press Change PIN [5] to change your PIN to a more memorable number sequence.
If the Staff PIN you have entered is correct you will now be able to input your hours.
Changing your Pin
Selecting Change Pin will allow you to access the following section.
We can only proceed with this change if you enter your Old PIN [1].
Enter your new Staff Pin within the New Pin Fields [2] and select Ok [3] to save the changes made.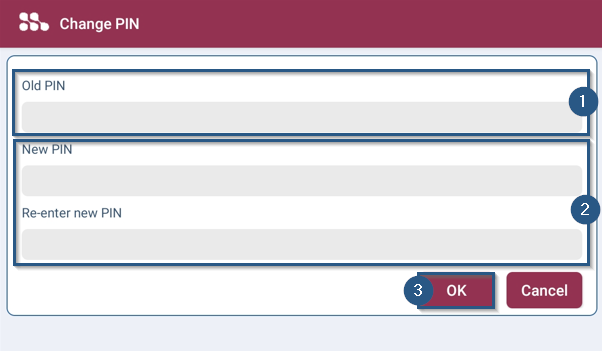 IMPORTANT
If your old PIN is three numbers long enter a New PIN with three numbers, if your Old PIN is four numbers long enter a New PIN with four numbers. You will not be allowed to enter number sequences such as 0000 or 1234.