This article will teach you...
How to add/edit form content
Adding Groups
Navigate to Kitchen Manager > Design.
Select the Relevant Form [1] from the navigation tree and click on the Group Section [2].
Upon clicking the Group Section a dropdown menu will appear, select Add Group [3].
Selecting Add Group will open a new window in which you can now enter details for a new form group:
Name [5]: Name of the relevant question.
Description [6]: Brief description of the newly added question.
Validation Type [7]: Two options can be chosen here. Not Required marks the Group as not essential to complete the form and Answer all will mark the question group as required for the completion of the form.
Icon [8]: If required you can add a logo to the form group.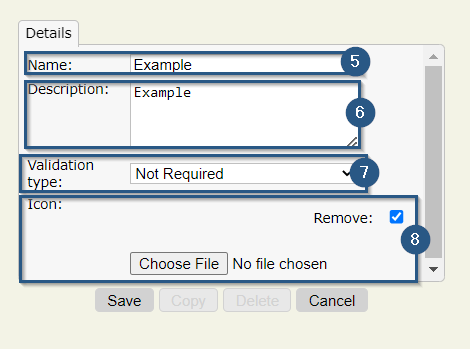 The created question can now be seen within the Form List [9].
Adding Questions
Following on from the previous steps, click on the Relevant Question [1] and select Add Question [2].