In the event you don't have a suitable Action Type in the Action Details drop-down menu, you can create a new Action Type to meet your needs or Edit an existing Action Type if the Point of contact has changed.
This article will teach you...
How to Create and Edit an action type.
Navigate to System > Admin > open Types Navigation Tree [1] > select Action Types [2]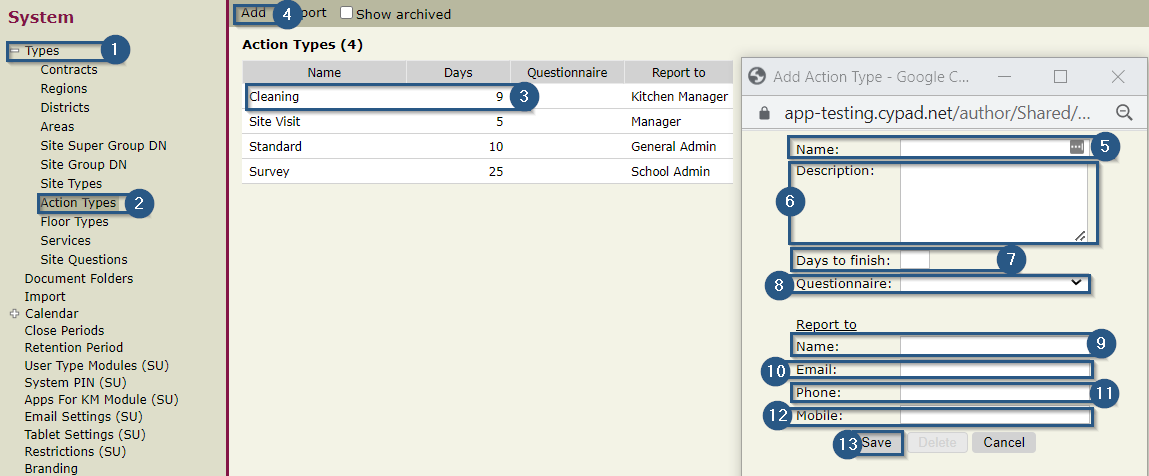 In the Action Types page either select an Existing Action Type [3] to edit or click the Add button [4] to create a new Action Type.
In the Add/Edit Action Type window give the Action Type a Name [5], Description [6], Days to finish [7] and assign a Questionnaire [8] that will need to be filled in as part of the Action.
In the Report to fields update or fill in the Name [9] of the person who the report will go to as well as their Email address [10], Landline Number [11] and Mobile Number [12] then click Save [13].
NOTE
You can only amend action types that are not in a package.