Monitor Publishing allows users to bulk publish all forms of information including Documents, Newsletters, Recipes, Menus, Folders, Messages and URLs to all schools across the contract.
This article will teach you...
How to bulk publish using Monitor Publish.
Go to Monitor > Publish.
The Bulk Publish option will be greyed out (unavailable) unless 2 or more Documents/Messages/URLs are selected using the Checkboxes [1]. When you have selected the items to publish click the Bulk Publish button [2].
In the Publish window, you can view the Publish by [3] options by Area or Site Type.
In both Publish by Types, use the Checkboxes [4] to select specific Sites to publish to, or click the All Sites check box [5] to automatically select all the available Sites and click the Publish button [6].
After publishing the Published [7] column will have a number to identify how many Sites the Document/Message/URL has been published to.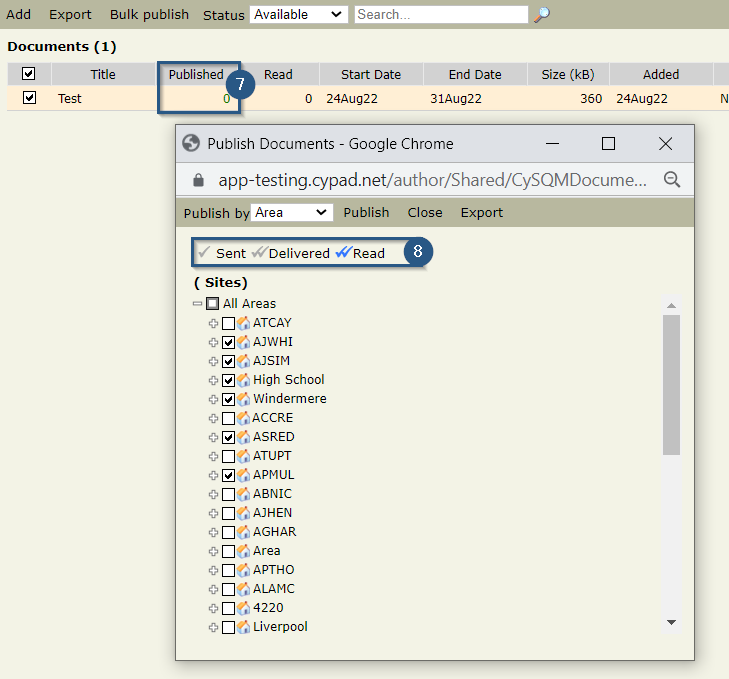 When a Document/Message/URL has already been published and you need to publish it to other Sites, repeat the Bulk Publish steps above and you will be able to identify which Areas/Sites have already been published using the Sent/Delivered/Read icons [8].