Case Type Questionnaires can be used to record incident's, events, and accidents. Notes can added to a questionnaire as well as Actions that need to be taken.
This article will teach you how to create a new Case Type folder for your Case Questionnaires to be stored.
---
In Cases Design [1] click the Add Case Type [3] button.
In the Add Case Type window give the Case type folder a Name [3] and a Description [4] for what the Case Type will be used for.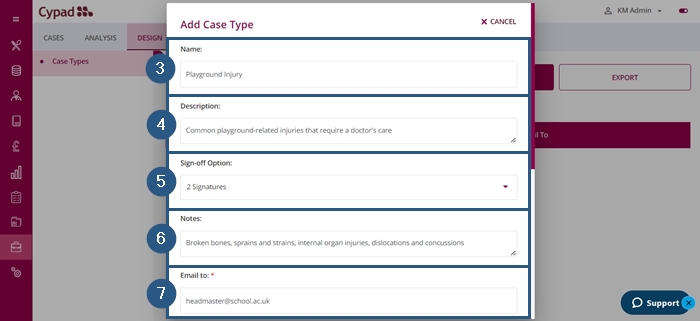 The Sign-off Options [5] will determine how many, if any, signatures will be required to sign off on a completed Case Questionnaires. The Sign-off Options are as follows:
No Signatures
1 Signature
2 Signatures
Use the Notes [6] field to include any useful notes and the Email to [7] filed to set who the completed questionnaire will be sent to.
NOTE Multiple email addresses can be added to the Email to field by separating each email address with a semi-colon (i.e. headmaster@school.ac.uk; schooladmin@school.ac.uk).
Set a Prefix ID [8] and Starting Number [9] that can be used to generate the Case ID for each Case that is created.
Use the Photo [10] drag and drop area to upload a PNG file that will be used as the Case Type file icon.
When you have uploaded the PNG file you will see a preview, if you want to change the file you have uploaded click the Delete [11] icon before uploading a different PNG file.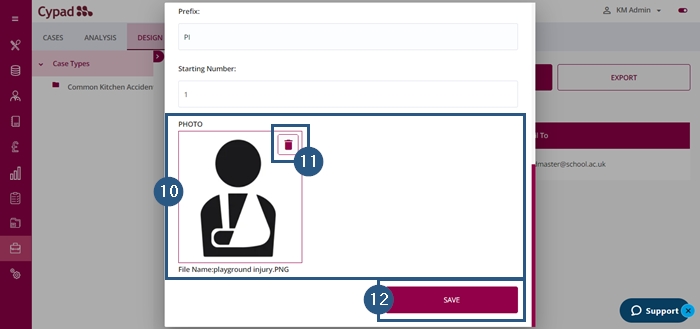 Click the Save [12] button to finish creating the new Case Type.